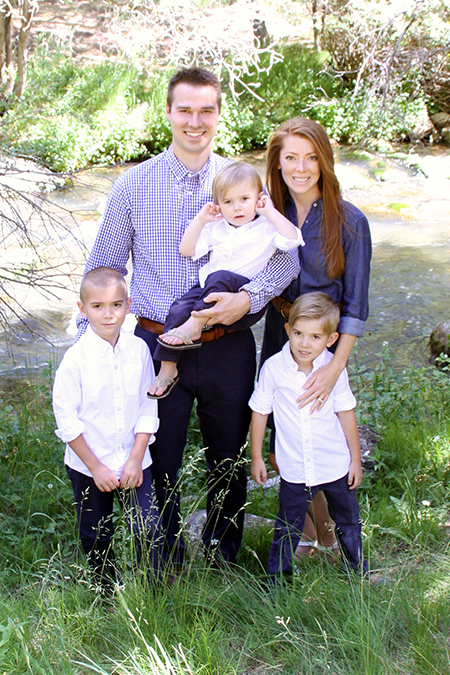 Dr. David Ross
He was born in Frankfurt Germany and raised at various military installations around the world.
He graduated with a Bachelor of Science degree from Brigham Young University and received his Doctor of Medicine in Dentistry degree from University of Nevada, Las Vegas.
He's been involved in the dental field since 2005 when he started working as a dental assistant for his Father in Law, Dr. J. Lawrence Earl, in Las Vegas.
He is a commissioned Captain in the United States Army and has served as a dentist at Fort Bragg North Carolina where he treated soldiers in the Warrior Transition Unit. These soldiers are brave men who have sustained injuries that prevent them from regular combat service. Dr. Ross also treated other military medical professionals at the Womack Army Medical Center and was attached to the 36th area medical support company, aka the "Gamblers", in which his mission was to assist in any disaster situation within the United States. Now he continues to serve in the Army Reserve Corp.
Dr. Ross loves to serve his community and has been involved in service around the world from a young age. For his commitment to serving his community, Dr. Ross received a presidential service medal. In his adolescent years, Dr. Ross's family raised guide dogs to assist the disabled. This instilled in him a motivation to always make community service a part of his daily life. Some of his service endeavors include a 2 year full time religious mission in Italy, offering dental services at no charge to underprivileged children and their families, charge free dental clinics for military veterans, involvement with child education through Clark County School District, service as a Scout leader, and more.
Dr. Ross has been married to a Las Vegas native for 11 years and together they have three young boys. Their family enjoys travel and any family activity.
Dr. Ross is committed to staying abreast of the newest proven dental technologies. He frequently attends dental education courses and enjoys the daily tutelage of his colleague and Father in Law, Dr. Earl who has over 40 years' experience providing the highest standard of dental care. Providing excellence in technique, patient care, and product is of the highest importance to Dr. Ross and his patients enjoy his genuine, fun, caring personality. His patients always receive optimum care and personal attention no matter what.
---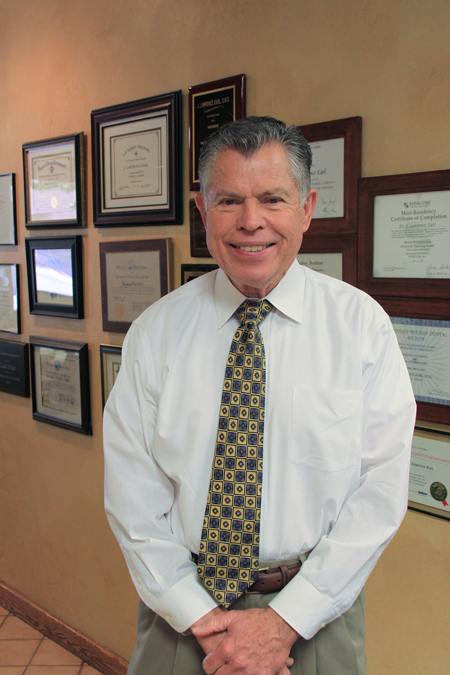 Dr. Earl
In dentistry as in food there are different levels of product for different needs – there's "fast food" and "fine dining" and lots in between. In dentistry you will find "urgent care", "contract dentistry", and then "fine dentistry", that dental service which provides artistry, technology, and health.
Dr. Earl provides fine dentistry. – It is his passion, his art, his responsibility. He does not compromise with time or materials or quality and he is uniquely gifted in his field.
A 1972 graduate of the University of Oregon Dental School, he continues his education studying at The Pankey Institute, LVI Global, Walter Reed Army Hospital, Letterman Hospital, USC Dental School and with many of the finest practitioners in dentistry. He is certified to provide both implants and Invisalign assisted orthodontics.
Dr. Earl provides comprehensive dentistry with expertise in cosmetic and restorative dentistry, oral surgery and implants, endodontics (root canal therapy), periodontics, orthodontics, and TMJ dysfunction. In addition, he provides unique services in preventive dentistry and is particularly cognizant of the relationship between your total health and your dental health. His patients appreciate his full service care –without continual expensive and time-consuming referrals to various specialists.
Dr. Earl is recognized for his art among patients and professionals alike being selected for listing in America's Top Dentists and National Register's Who's Who in Executives and Professionals. He is acknowledged by LVI Global for his expertise in advanced function and esthetics and is a member of the American Academy of Cosmetic Dentists.
You can trust Dr. Earl. He will be available when you need him and treats your emergencies as his own. He provides all his patients with his home phone number – that's how much he cares!
Dr. Earl believes with the dental pioneer Dr. Bob Barley that…
"There's a difference between 10 years experience and repeating the 1st year 10 times."