Maybe you've always wanted a straight and healthy smile, but you couldn't stand the idea of bulky and uncomfortable wires and brackets. Fortunately, you can get everything you want from your braces experience. Invisalign clear braces may be the ideal orthodontic solution for you!
Am I a Good Candidate for Invisalign?
Invisalign braces can be the right method to reverse crossbite, overbite, underbite, crowding, or crookedness. For most standard orthodontic issues, Invisalign braces can make all of the necessary changes to ensure top-notch health, comfort, and aesthetic.
Of course, there are some complicated orthodontic cases that warrant the need for traditional braces, but most patients can see the results they want with Invisalign. Invisalign clear braces have been used to create more than 1,000,000 gorgeous smiles, and 96% of patients are satisfied with both the process and the results they see.
How Does Invisalign Work?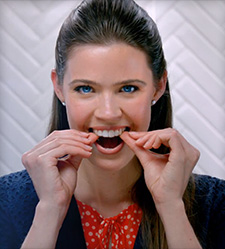 During your first Invisalign appointment, our dental professionals will take photographs, x-rays, and impressions of your teeth. Together, you and your Invisalign dentist will design a treatment plan that will help you realize your smile goals. Using your impressions, our lab technicians will fashion a series of aligners that will slowly guide your teeth into their ideal positions.
You will wear one set of aligners for a few weeks at a time, and switch them out when your teeth have moved sufficiently. You will only have to visit your Invisalign provider once every 4-8 weeks to maximize your experience!
Advantages of Invisalign
If you choose to wear Invisalign, you will instantly know why patients choose clear braces over their traditional metal counterparts.
You can remove your Invisalign to brush and floss without difficulty
The smooth plastic aligners are comfortable and won't irritate your mouth
Invisalign is faster, with treatment time taking half the time of traditional braces
No one even has to know that you're wearing braces
Your stunning smile results can last a lifetime
Invisalign might be the most effective way for you to achieve a movie star smile! To find out more about our Invisalign braces, it's time to consult with one of our experienced dentists. Give us a call today to schedule your appointment!